FERODO FCP1348H Brake pads rear DS2500 for JBT CM4P (small) / BREMBO TESLA MODEL S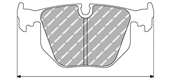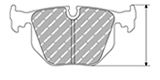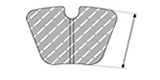 109.8mm = 4.323" 69mm = 2.717" 15mm = 0.591" 51.3mm = 2.020"
MAIN APPLICATIONS: Track day, light race use, Rear GT
The racing-developed material is also ideal for heavy vehicles. The DS 2500 is ideal for circuit training: a coefficient of friction of around 0.50 µm, which remains constant over a wide range of temperatures, provides a consistent and predictable braking feel. This new generation friction material has a very low compressibility and therefore a stable pressure point, while being gentle on the brake disc. Thanks to reduced brake dust and low noise levels, the pad is ideal for the driver who needs optimal braking performance in all conditions.
Main characteristics:
low noise
low level of dust generation
long service life
gentle effect on the brake disc
hard pressure point
road style sophistication, but with the ability of racing material to withstand heat in terms of life and µ.
application: track day and light race for all types of vehicles.
constant coefficient of friction of 0.50 in the operating temperature range from 0° to 500° C.