FERODO FCP1280H Brake pads rear DS2500 for MITSUBISHI LANCER / MONTERO / PAJERO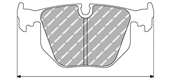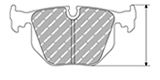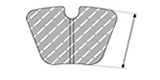 107.9mm = 4.248" 46mm = 1.811" 15.3mm = 0.602" 43.5mm = 1.713"
MAIN APPLICATIONS: Track day, light race use, Rear GT
Disc brake pads are the main component of the braking mechanism, and the braking efficiency of the motor vehicle depends on their quality. In the process of intensive use, the technical condition of the brake pads deteriorates over time, and their timely replacement will increase safety when operating the car. Brake pads FERODO FCP1280H, used in disc brake mechanisms. The pads are equipped with friction linings with an increased coefficient of friction, which will ensure effective braking when in contact with the metal surface of the brake disc, reducing the noise level. Also, the linings perform their function well, even with temperature changes, in conditions of excessive humidity and dust. The basis of the pads is a frame made of strong, high-quality metal, which will ensure a long service life of the part. Pads are installed on the rear axle of the car.
MAIN FEATURES
• Road style refinement but with race material ability to withstand heat with respect to life and µ
• Applications: track day & light race use for all vehicle types
• Average friction coefficient of 0,41 over working temperature range of 0° - 500° C